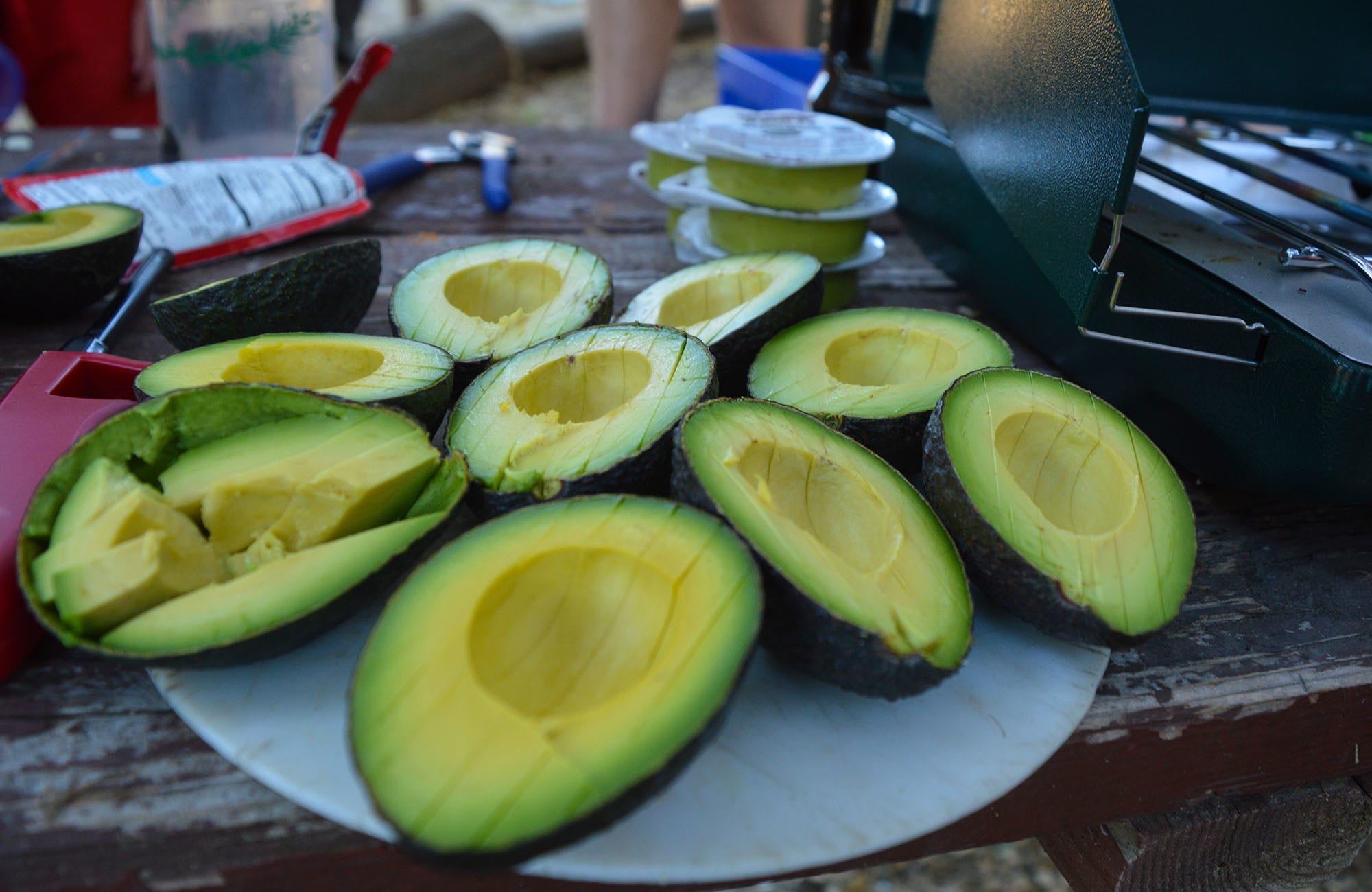 The star of today's post is the incredibly versatile fruit: the avocado! Whether they are enjoyed on the trail or at home, avocados have a knack for bringing joy to every meal.
They are full of healthy fats, nutrients, and fiber – an avocado even contains more potassium than a banana (which helps keep you hydrated). For all of these reasons and many more, the avocado has been praised by health-conscious eaters and guacamole lovers alike over the last decade. I hope this post sheds some light on what this superfood is, some good practices when preparing avocados, and finally three of my favorite recipes starring the fruit.
Avocado Fun Facts:
1.  Avocados are NOT vegetables, they are fruits
2. Avocados were once called "alligator pears"
3. The Hass variety of avocado is the most popular, discovered in 1930 by Rudolph Hass
4. In 2017, 34% of avocados were produced in Mexico
5. Avocados can make a great base for ice cream
6. Avocados have the highest fiber content of any fruit
7. Over 53 million pounds, yes pounds, of guacamole are consumed on Super Bowl Sunday alone!
8. Avocados will ripen faster if placed in a brown bag with a banana
Avoca-Do's
Pack out your peels and pits! Avocados aren't native to any of the places you'll be traveling with Moondance, so you shouldn't leave any trace that you ate one in the wild.

Share! Avocados are loved by most, and bringing one out at a mealtime on the trail is a real treat. Make sure everyone who wants some, gets some. 

Pair avocado with citrus, like lime or lemon, to keep the green parts from oxidizing (turning brown). The juice of citrus fruits slows this process and adds great flavor.
Avoca-Don'ts
Don't pack these in the bottom of your pack or bear canister – no one likes pre-mashed guac in their pack!

Don't buy avocados that are already ripe unless you're eating them that day or soon. A harder avocado that isn't quite ripe will hold up better in your pack, and then you can eat it when it's ready.

Don't forget to spice it up! Simply adding salt, pepper and a little hot sauce can really transform this fruit into a tasty snack that you can eat with a spoon or on crackers. I like to add Frank's Red Hot or Texas Pete, but any hot sauce will do.
Here are 3 meals starring the Avocado that you can make on the trail or at home:
Breakfast: Super Simple Avocado Toast!
Everyone who loves avocado toast has their own spin on this trendy dish and I encourage you to find your favorite. Here's mine:
Recipe serves 2
~ at home: 4 slices of grainy or whole wheat bread
~ on the trail: two English muffins or two pita's, split in half
2 ripe avocados

1/2 lemon (zested or juice)

Salt (½ tsp, or to taste)

Pepper (½ tsp, or to taste)

Hot Sauce (a few dashes)
Steps
Get your base toasted – break out the skillet and stove at camp or use your toaster at home to get your base heated to a toasty golden brown. Backcountry stoves may cook hot and quickly, so be sure to keep an eye on things – adding butter or oil to the pan can help promote browning and prevent burning.

Carefully cut into your avocado, removing the pit. You can slice up the meat (or green part) of the avocado in the skin.

Mix all the ingredients for the spread in a bowl. I like to leave some avocado pieces chunky for texture.

When your base of choice is toasted to perfection, top it with a healthy portion of your avocado spread and enjoy!
*Some additional toppings to consider:
Scrambled eggs

Sliced tomato

Everything Bagel seasoning (a favorite of Moondance HQ)
Lunch: The BEST Trail Wrap
The tortilla is a staple on many backpackers' diets, as it holds up well in a pack and doesn't require refrigeration. And, well, it's flat! 
Besides being a space saver, the tortilla is the perfect vehicle for my favorite hearty lunch on the trail that can be easily made at home. Taking little to no preparation, this meal is perfect for when you're short on time, but still want something fresh and tasty.
Recipe serves 1:
1 tortilla – 10" at least

¼  avocado

6-10 slices of bell pepper

6-10 pepperoni or summer sausage pieces

1 slice of cheddar cheese (or equivalent of block cheese, cut on trail)

Cholula hot sauce

Hummus
Steps
1.Slice your avocado, bell pepper, summer sausage  + cheddar cheese (if needed). Small slices are great for avocado, strips are great for the peppers and cut your block of cheese thinly for easiest wrapping later.
2. Build the wrap! Spread hummus and hot sauce on the tortilla, then top with all other ingredients. Centering your ingredients lengthwise on the tortilla helps with step 3.
3. Time to wrap – this technique takes some finesse and you may have to channel your inner Chipotle burrito wrapper swag, but you can do it. Position the tortilla so the long side of the ingredients you expertly centered in step 2 are running parallel to your body. Next, fold over the two short sides and begin to roll away from yourself, tucking all ingredients as you go and any tortilla corners that pop out. Enjoy!
Dinner: Burrito BOOOOOWLS
My favorite of all time. This is comfort food taken to the extreme after a long day on the trail. As customizable as they are tasty, these burrito bowls reign supreme when it comes to camp dinner. Each different element is easy to add if you like it or leave it out if you don't.
Recipe, serves 4 (there will be leftovers)
Guac:
3-4 ripe avocados

¼ of white onion, diced small

1 clove garlic, finely chopped

1 medium tomato, diced

1 lime

½ bunch of cilantro (frontcounty only)

optional

, 1 small jalapeno (seeds removed, finely chopped)
Rice:
½  large white onion, diced small

2 cloves of garlic, smashed

2 tbsp of oil

Zest of one lime

½ bunch cilantro (frontcountry only)

2 cups white rice
Black Beans:
Chicken: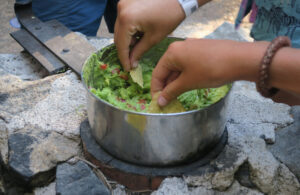 In frontcountry settings, fresh chicken may be preferred, but never bring raw meat products into the backcountry. Use the same spices in the frontcountry and add any leftover cilantro after cooking!
*Don't have taco seasoning? Try mixing these spices to create your own: chili powder, ground cumin, smoked paprika, garlic powder, onion powder, dried oregano + salt and pepper to taste.
Steps:
1.Prep your chopped ingredients: Dice large white onion and set divide for each different component. Smash three cloves of garlic, dicing one finely for guac. Zest the lime and set aside (if you need zest, always do this before juicing). Dice tomato and seeded jalapeno. If you're in the frontcountry or at home remove the leaves from the cilantro bunch and roughly chop. 
2. Rice: in a medium or 3-4 liter pot saute half of diced white onion in oil on medium heat for about 5 minutes. Then add 2 smashed garlic cloves and cook another minute. Add two cups of uncooked rice to the pot and toast for a minute before adding water. Following the cooking instructions on the bag or box of rice, add water and bring to boil. Once boiling, reduce heat to simmer and cover with a lid for ~15 minutes or until rice is tender and the water is absorbed. While rice is cooking, start heating beans and chicken.
3. Black beans:  in a small or 1-2 liter pot saute ¼ of diced white onion in oil on medium heat for about 5 minutes, adding the taco seasoning at the last minute. Add in black beans, undrained and ½ the can of water. Cook for an additional 3-5 minutes until the beans are heated through.
4. Chicken: in a medium skillet, heat oil and then add chicken, taco seasoning and lime juice. Because you are only heating this through, it will be ready in just a few minutes. Mix in cilantro, once the mixture is off the heat.
5. Guac: I like to leave the guac until the end so it is freshest when served. Cut avocado in half and remove the pit, then slice into cubes in the skin. Scoop into a bowl with the ingredients you prepared in the first step, adding salt and pepper to taste. 
6. Finishing touches: when the rice is fully cooked, discard the garlic and add lime zest and cilantro if available. Fluff with a fork. Any remaining cilantro or lime juice can be used to top each bowl.
7. Finally, build your bowl and dinner is served!
Optional additions: 
– Sam Whitehurst, Moondance HQ