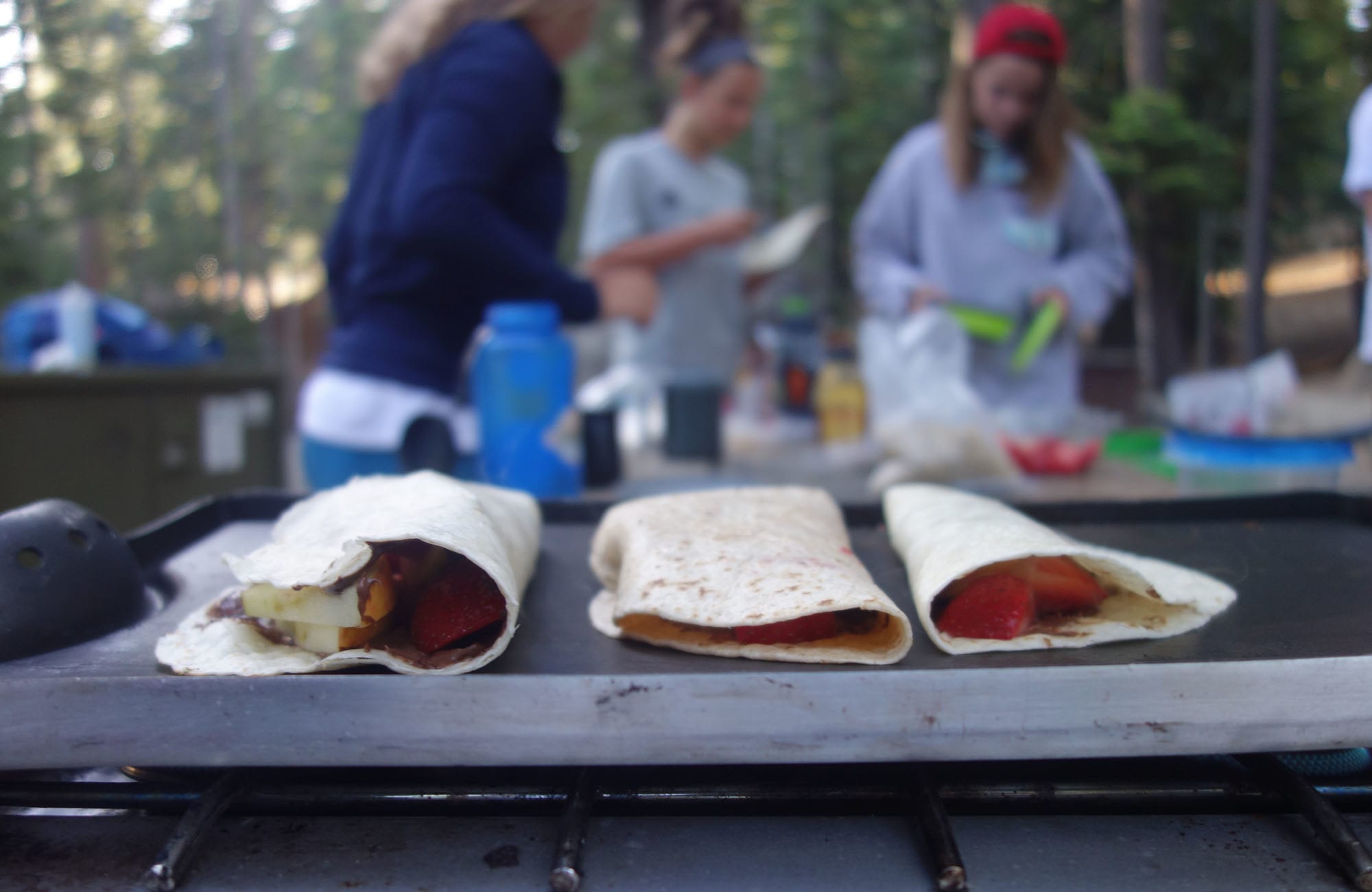 The most important meal of the day!
Breakfast is likely that one meal of the day that slips your mind, whether you are in a rush to get ready for school or work or you just don't feel like making something elaborate so early. I get it! You won't always have the time to make some elaborate meal, but I know I always have more energy during the day if I have something in my belly. I've compiled some recipes that work for me everytime.
When I have a little more time, I prefer to treat myself. The three wraps below have BIG flavors and are always satisfying. "The Davis" and the sweet potato and kale recipe are my backcountry favorites, while the southwestern egg + cheese is better for the frontcountry or at home.
Wraps (for two):
Sweet: "The Davis"
– 2 tortillas (10" or larger)
– 1 Banana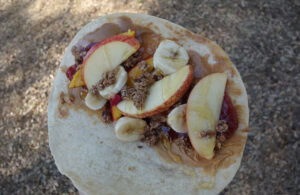 – 1 Green apple
– 1 tbsp cinnamon (or more if you love it!)
– Honey 
– Crunchy PB
– Granola
– 2 – 3 tbsp butter or vegetable oil
Steps:
Chop the banana and green apple into ½ inch pieces (about the size of your knuckle). Then saute on medium – low with 2 tbsp of butter or oil and cinnamon. You're really just heating these ingredients, not going for a lot of color, so it won't take long (maybe 5 minutes or less). It's going to smell amazing!

Prepare your tortilla – if you're feeling fancy, heat the tortilla on the stove/over the camp stove flame or in the microwave for easier wrapping later. Spread peanut butter in the center of the tortilla, and then top with a sprinkle of granola and a drizzle of honey.

Add the heated banana and apple mixture and then wrap! For a little added crunch to the wrap, toast the stuffed wrap, seam-side down in a hot pan or on a griddle with the remaining tbsp of butter. Watch closely as it will turn golden brown quickly!
Enjoy!
Savory: Southwest Egg + Cheese with BACON
2 tortillas (10" or larger)

4-5 large eggs (scrambled)

½ green bell pepper

½ sweet onion

4 strips of bacon (crumbled)

Pepper Jack cheese

Cholula hot sauce

2 tbsp of Taco seasoning

Salt + pepper

3-4 tbsp of butter
Steps:
1. Chop + saute bell pepper and onion. I prefer cutting my veggies into longer strips for this wrap. Then I saute them on medium heat in 1 tbsp of butter or oil, adding the taco seasoning as they cook. Remove them from the pan after 5-7 minutes or when the onions turn translucent and begin to brown.
2. Using the same pan, add remaining butter or oil and beaten eggs. Scrambled eggs are best cooked on lower heat with almost constant movement. Season with salt + pepper to taste when they are cooked to your preference.
3. Build your wraps – add half the eggs and sauted veggie mixture to each tortilla, then top with crumbled bacon and cheese. If you like it spicy, finish the wrap with Cholula hot sauce.
Bundle everything up tight and enjoy!
Sweet + Savory: Sweet Potato + Kale
2 tortillas (10" or larger)

1 medium sweet potato (the size of an apple)

½ sweet onion (diced)

4 cups kale – chopped/torn (4 big handfuls)

*Black beans*

optional

2-3 tbsp of oil

Garlic powder

Chilli powder

Salt + pepper

Hot sauce

Maple syrup****
Steps:
1. Cut sweet potato into small cubes, which help it to cook faster. Add cut potato pieces to a pan with about a half cup of water, garlic powder + chilli powder and cover with a lid. Check after 5 and 10 minutes or until potatoes are tender. Add salt and pepper to taste and then remove from heat.
Optional: drain a can of black beans and add half to the sweet potatoes after 5 minutes      of cooking
1. In a separate pan saute diced onions with remaining oil for about 5 minutes, then add chopped kale. NOTE: it will look like way too much kale at first, but it will shrink as it cooks. If using a smaller pan, then add more kale as it shrinks.
2. Add half ingredients to the center of each tortilla. Top with hot sauce and ***maple syrup to taste. Trust me! The maple syrup takes this wrap to the next level – the perfect savory and sweet balance.
Wrap and enjoy!
The recipes below aren't available in the backcountry, but they are so great for busy school mornings or before work. 
Especially when I know I'll be rushed in the coming week, I like to put together a few servings of overnight oats or chia seed pudding. Top with fruit or any other recommended toppings below and you have a healthy but energy-packed breakfast that will sustain you all day. I've included my two favorite recipes – both are easy to throw together, and should be done the night before and will keep for 4 days in the refrigerator. 
The basics for each of these recipes is relatively simple – oats or chia seeds + something for hydrating the oats, and I always add something sweet. Experiment with the optional ingredients as you try this recipe, there are so many flavor combinations available.
Overnight Oats:
Optional: ⅛ part chia seeds (added protein + gives it a smoother consistency)
Steps: 
Combine all ingredients in a mason jar or tupperware container, mix it well. No lumps! Let the mixture sit for at least 6-8 hours or overnight before eating.
Chia Seed Pudding:
1 tbsp chia seeds

¼ cup of milk (whole fat or coconut, but any type will do – I like cashew)

Optional: 2 tbsp of honey
Steps: 
Combine all ingredients in a mason jar or tupperware container, mix it well. I let the mixture sit for ten minutes and then stir again until all lumps are gone. Let the mixture sit for at least 4 hours or overnight before eating.
Topping Options:
Nutella & bananas or strawberries (or both)

Mixed berry – fresh raspberries, blueberries, and strawberries

Peanut butter and jelly – 2 spoonfuls of peanut butter, 1 spoonful raspberry jam, fresh raspberries
– Sam Whitehurst, Domestic Operations