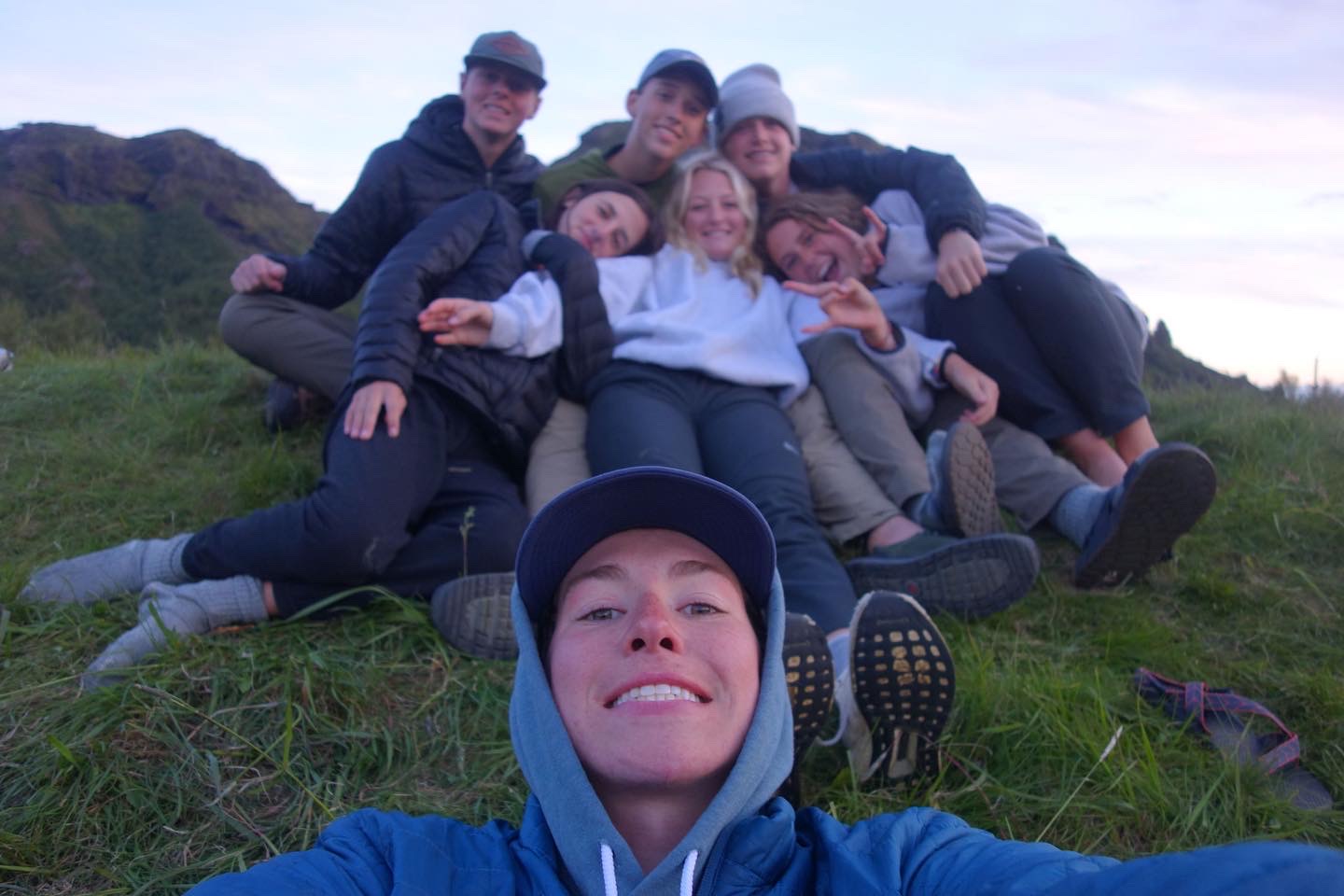 Now that the 2024 Trip Leader Application is officially live, let's meet the new members of the Staffing Team who will help you throughout the process! Briggs McElwee hails from Statesville, NC and is a recent graduate of the University of North Carolina: Chapel Hill where he majored in Business. Go Tar Heels! Briggs was a Trip Leader for the last two summers in Iceland (2022) and Kilimanjaro (2023) and now joins Moondance HQ as a Staffing Coordinator. Here's a little more about his experience in his own words–and why you should apply for the Best Job You'll Ever Have!
*****************************************************************************************************
The other week I was reading through some old journal entries while packing up my childhood room to head off for Nashville to join Moondance's HQ team when I came across a passage I wrote last summer. It was from one of my first nights at Staff Training at Camp Wayfarer, and it read "there's no better feeling than feeling at home in a new place." It was the summer of 2022 and I was new to the Moondance family, but they welcomed me with open arms and I was immediately hooked to this new community. I couldn't be more excited to join HQ's staffing team to recruit our next group of leaders for what truly is the best job out there. When I started as a trip leader just two years ago, I had no idea how big Moondance's impact would be on my life, and I'm grateful to still find myself in that same community two years later. 
It was early in the second semester of my junior year at UNC when the idea of working for Moondance first presented itself to me. I was swamped in consulting applications and other job opportunities that I wasn't necessarily stoked for when a few close friends of mine all mentioned Moondance in passing over the span of a few weeks. Although I never did a trip growing up, I took it as a sign and did my research on the company and was quickly confused as to why every college kid in America wasn't trying to work for Moondance in the summers. After an amazing application process, I had my final phone call with Hayes in which he told me I'd be spending my summer in Iceland… ICELAND?! I had no idea what to expect, but I couldn't have been more excited for the adventure ahead. 
I showed up to Staff Training in May of 2022 not exactly sure of what to expect. I thought there would be a lot of hard skills training mixed in with your awkward ice breaker games and that we would all suffer through it together before heading off for our own separate adventures… I couldn't have been more wrong. What happens when you gather 150+ of the coolest, most intentional, goofiest, loving people in the world in one place for two weeks? MAGIC. That first staff training made me realize more about myself and others than any other thing I've done in my life. I felt at home with a bunch of strangers, and that is what Moondance is all about. Whether it was the first time I heard the Bon Vivant Manifesto, hiking through the Pisgah National forest with my SIM group, or playing guitar and singing songs with strangers, that first staff training broke apart my world and allowed for a whole lot of goodness to flow into it. 
Following Staff Training, my co-leader, Anna, and I headed off to Iceland for what I knew was going to be a very special summer. That first summer as a trip leader was everything I dreamed it'd be. Our kids were amazing, and just being around them rejuvenated me and taught me how important it is to just be a kid sometimes. We saw some of the most beautiful views I've ever seen in my life, and we got used to sleeping under the sun since it never got dark. I learned a lot about gratitude in that first summer, and whether it was a looooong Icelandic sunset, or a dance party on an island between fjords, I learned to never take those fleeting, beautiful moments of life for granted. 
I went back to school this year with a new appreciation for the people I'm surrounded by, and had an amazing senior year. It was around Christmas time when I decided to lead again for the summer of 2023, and was honored to be offered the opportunity of a lifetime in leading students up Kilimanjaro. In February I accepted a full time position working in Moondance's Staffing Department, so needless to say, I was all-in on Moondance following my first summer as a trip leader. 
Just a couple days after graduating from UNC in May, I hopped in my car and headed back to Camp Wayfarer for another staff training. Graduating college is super weird… and while I was very sad to be leaving behind some of my best friends and a great chapter of my life, staff training was like hitting a reset button. It was so refreshing to revisit so many great friendships and make even more new ones. Right when I passed through the gates at camp I felt back at home and knew I'd made the right decision in returning for year 2. This year's Staff Training was AMAZING. It was cool to be a veteran leader and get to see firsthand how impactful the experience is for everyone. From cowboy camping under the stars in Pisgah to dance parties at eight o'clock in the morning, we had the best two weeks ever and it felt like my soul had been scrubbed clean once again. 
This summer in Tanzania turned out to be the best summer of my life. From our first week in Mto Wa Mbu working with the Red Sweater Project, to climbing Kilimanjaro and finally relaxing in the Serengeti, it's an amazing trip that you just can't put into words. Getting to see our students conquer a mountain like Kili was pretty surreal, and it taught all of us how much we can accomplish when you keep putting one foot in front of the other. I learned more about myself this summer than any other, and I'm so grateful to Hayes and everyone at HQ for giving me the opportunity! 
I'm even more grateful to be working in HQ now full-time, and I can't wait for this next group of leaders to find their own place in this Moondance journey we all know and love. I haven't come across another community quite like the one we have here, and I cherish every moment I get to spend with these people. I encourage anyone out there to bet on a summer with Moondance because it hasn't led me wrong yet. It's hard work, but it's good, meaningful work, and that's the best kind out there.
—Briggs McElwee, 2x Moondance Leader, Iceland and Kilimanjaro