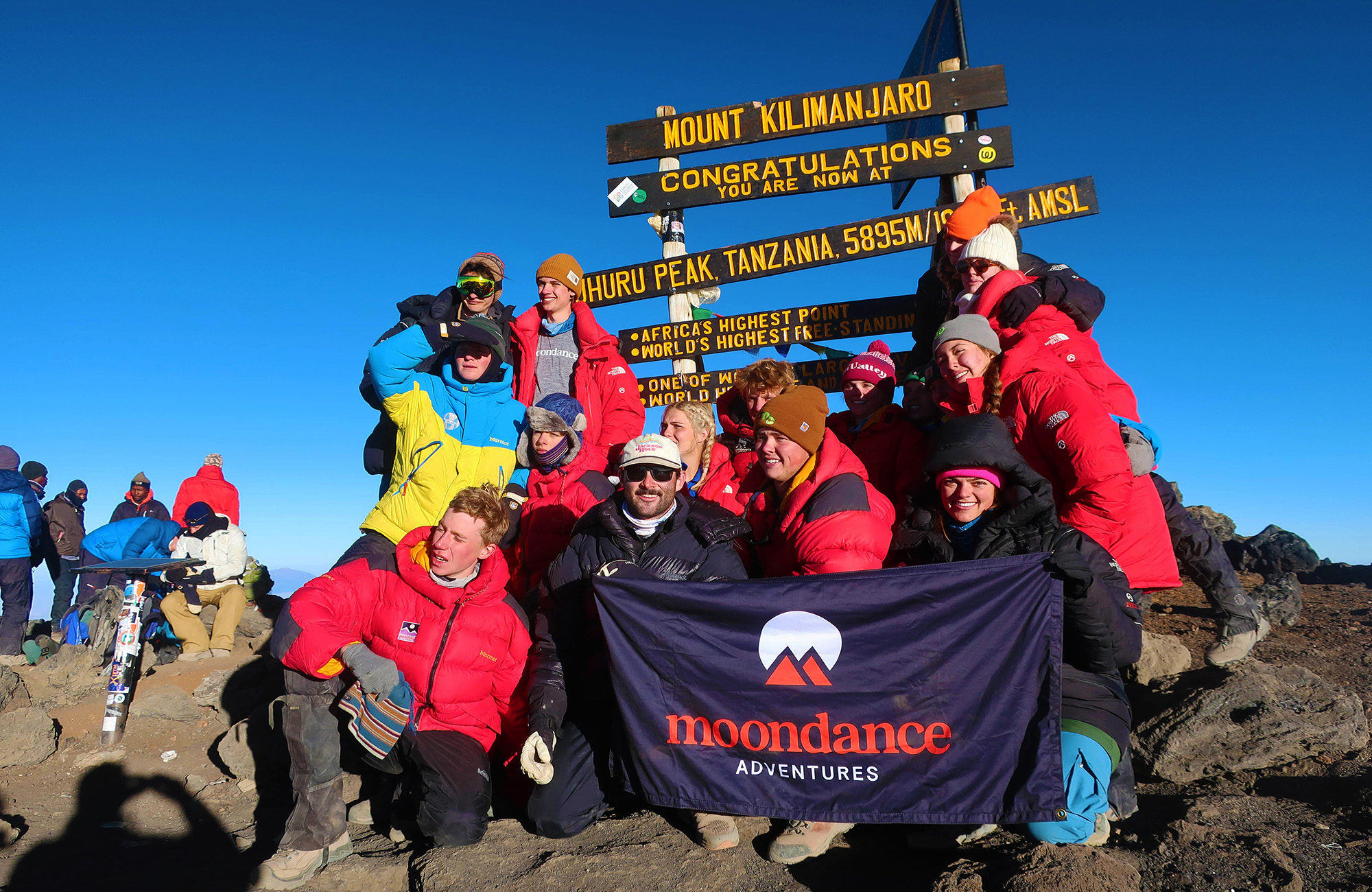 Owen Roberts, Assistant Director of Staffing, from Athens, GA, reflects on what Moondance means to him as he moves from being a trip leader to a full-time Moondancer.
Growing up in Athens, Georgia, I was surrounded by family and friends–whether they were from my hometown or one of our nearby hubs–who went on Moondance trips and had unbelievable experiences. Unfortunately, I never listened to my mom's advice (a very common theme in my late middle and high school years) to go on a trip. Instead, I predominantly spent my summers in my hometown playing football, baseball, and golf. As much as I loved playing sports, it is truly one of my biggest regrets in life that I never had the courage to tell my coach I was going to be out of town for two or three weeks on an outdoor adventure. While it's easy for teenagers to be narrow-minded and focused on their goals, there is truly nothing more impactful than jumping out of your comfort zone and going on a Moondance (as a student or as a leader).
Covid provided me the perfect opportunity to right my previous wrongs and finally take a chance on Moondance. After having my junior football season at W&L canceled and taking most classes via Zoom, I was longing for intrapersonal teamlike relationships–and an adventure. I was home for Christmas break and decided to reach out to Gray Rixey–who was the Director of Staffing at the time and also a W&L alum–to express interest. He immediately picked up the phone and we spoke for almost an hour. The conversation quickly diverted away from Moondance as we started talking about Lexington, our lives, and the current state of the Union in the crazed Covid world we were living in. At the end of it he said, "oh yeah, by the way, you should definitely apply to lead this summer." And I did.
When I arrived at staff training later that spring, I was both anxious and excited. I truly did not know what to expect, but there was Gray to formally welcome me into the Moondance family. Looking back, those two weeks I spent in Asheville were some of the most transformative of my life. I remember texting my mom that I was overwhelmed with joy and gratitude. I think, mainly, this was derived from two things: the Moondance culture and then also the quality of individuals that that aforementioned culture attracts. I had never been surrounded by so many incredible, positive, and intentional human beings who pushed each other to be the best version of themselves everyday.
After a short debrief at Moondance HQ in Nashville, it was time to leave the larger community we had built and head out to our respective trip destinations. Fortunately, I was blessed with two incredible co-leaders: Mary Clarke Wallace and Maggie Masterson. As much fun as we had together on Maui that summer, I also learned more from them than any other team I have ever been a part of. Working–and living in a tent–with two other people for 2 months can certainly be challenging at times, but I can wholeheartedly say that the 2021 summer was the most rewarding of my life.
I was able to take much of the "Moondance Way" and apply it to my life when I got back to school that fall–it undoubtedly was the driving factor behind what would become the best year of my life. As I wrapped up my athletic career and undergraduate education, I was continuously looking for my next step. In the hyper-competitive world we live in I was initially drawn to paralegal and government opportunities in big cities so that I could stay near the amazing group of friends I had at W&L. Increasingly, however, I could feel that something wasn't quite fitting right. It was around this time that the new Assistant Director of Staffing, my close friend, and fellow Maui-vet Sandra Davis called me and asked what my post-grad plans looked like. I shuttered and said that I still wasn't sure. That's when the opportunity to lead Kilimanjaro this past summer was presented to me. Of course, with my heart beating out of my chest, I almost immediately accepted (pending my parents approval, which they quickly and happily gave). Although I had thought I was probably done with Moondance and ready to find a "real job", this was a chance I simply could not turn down.
Mount Kilimanjaro, the Serengeti, and Tanzania as a whole provided the perfect backdrop for my second summer with Moondance. I had yet another incredible co-leader in Suzanne Hollis and a mature, authentic, and fun-loving group of kids. It was truly a magical experience and our successful summit of Kili (16/16) was just the icing on the cake.
It was the absolute best way to spend my post-grad summer and it further inspired me to accept a full-time job in Moondance HQ. Yet again, Gray and Sandra were there to assure me I was making an incredible decision. While the awe-inspiring places may be what gets you in the door, it's the people at Moondance that keep you here. I couldn't be more thankful for the opportunities that Hayes has given me and I'm looking forward to helping create amazing experiences for the next generation of Moondance students and leaders!
-Owen Roberts, Assistant Director of Staffing